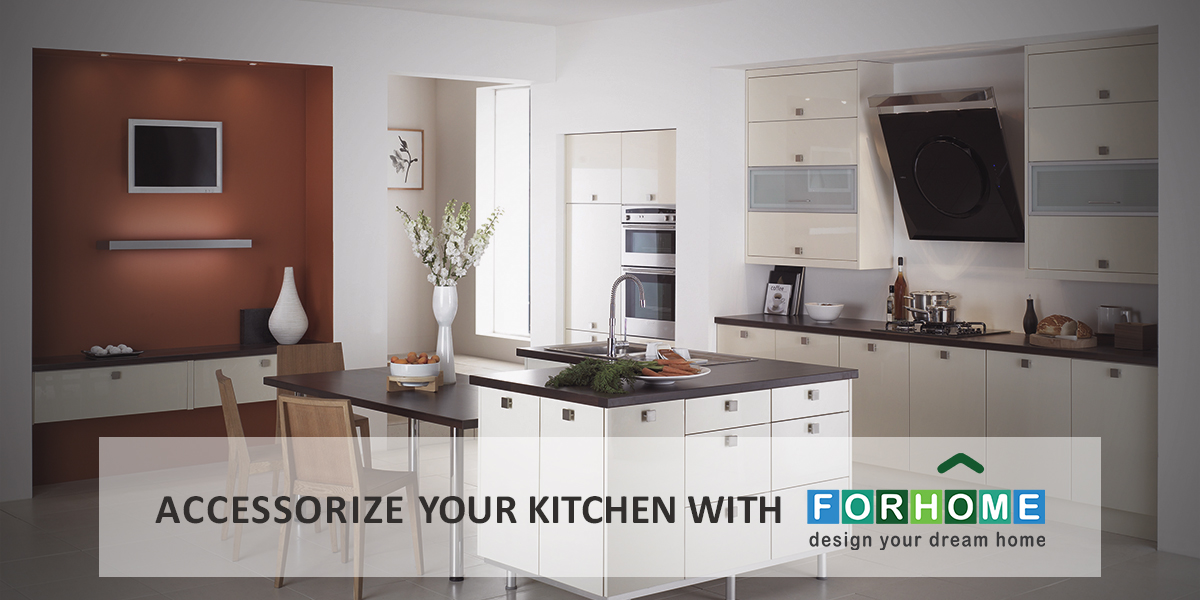 Accessorize your Kitchen with Forhome
kitchen accessories forhome 20-02-2019 1064 Views
The kitchen is a multifunctional room used for everything from fun family time to homework club, so it needs to be a dynamic and expressive space. With all the hustle and bustle of a busy kitchen, it can be easy for the aesthetics to get overlooked but by focussing on the little things, such as charming kitchen accessories, you can bring the whole room together.

Space-saving Kitchen Appliances
Appliances are designed with compact efficiency. Even though the smaller appliances don't take up much room, avoid cluttering your countertops with them. Countertop corners are ideal spots for small appliances, such as blenders, mixers, coffeemakers. It leaves the countertop uncluttered while making good use of a corner space that's often unused. Some toaster ovens, microwaves, can openers, coffeemakers and food processors are designed to mount to the bottom of your cabinets, helping to keep the counter space uncluttered.

Walls and Cabinets
Make use of the vertical wall space in your kitchen. Open shelves add space for storing and displaying dishes, glassware and other items. Exchange a few solid cabinet doors with clear glass replacements. The glass doors are not only a decorative accessory but also add depth to space. Install glass or ceramic tile backsplash above your countertops to inject visual interest. Add new knobs and handles to your cabinet doors and drawers for an instant accessory update. Hang one or two large pieces of artwork to add visual interest, as well as to make your kitchen appear uncluttered and more spacious. Hanging an overabundance of small pictures is distracting and can make your kitchen appear disjointed and congested.

About Us
Forhome is one of the biggest chains in Kerala hosting home fixtures and accessories from the finest brands world over. From the tiniest hinge to the most contemporary modular kitchen, Forhome has them all. With 15 directly managed stores and several franchisees across the state, Forhome has grown into the singular best stop for all kinds of home fixtures and accessories. The chain offers hardware and fixtures for every corner of your home starting from the front door to the kitchen, all the way up to the bathrooms. With a string of top brands and variants to choose from, shopping from Forhome is a pleasure. One of the most trusted providers of modular kitchens, Forhome has a full service team that specialises in installing modular kitchens for all kinds of homes. While offering only the finest variety in terms of quality and brand name, Forhome also holds an excellent repute for its customer service and after sales support. Consequently, the group has today grown into a formidable name in its segment and the best dealer for most brands of national and international repute.